The final film of everyone's favorite sci-fi movie series is coming to an end. Star Wars Episode IX: The Rise Of Skywalker just had its worldwide release this January 8. We will finally see the end of this 47-year series that started in 1977 from Star Wars Episode IV: A New Hope.
In memory of this beautiful series that influenced the imaginations of many, let's remember the most stylish character in the entire series, Padmé Amidala, mother of the iconic Princess Leia. She was played by Natalie Portman and appeared in the prequel trilogy, Star Wars I to III. In these three movies, she underwent 43 wardrobe changes in total.
Let's take a look at some of her best outfits.
Throne Room Attire
Padmé is the Queen of the planet of Naboo. Whenever she is in her throne room, we see her wear this red robe with gold embellishments. The robe was inspired by ancient Chinese attire. Moreover, the royal red attire is reminiscent of one of China's most powerful rulers, Empress Wu Zetian.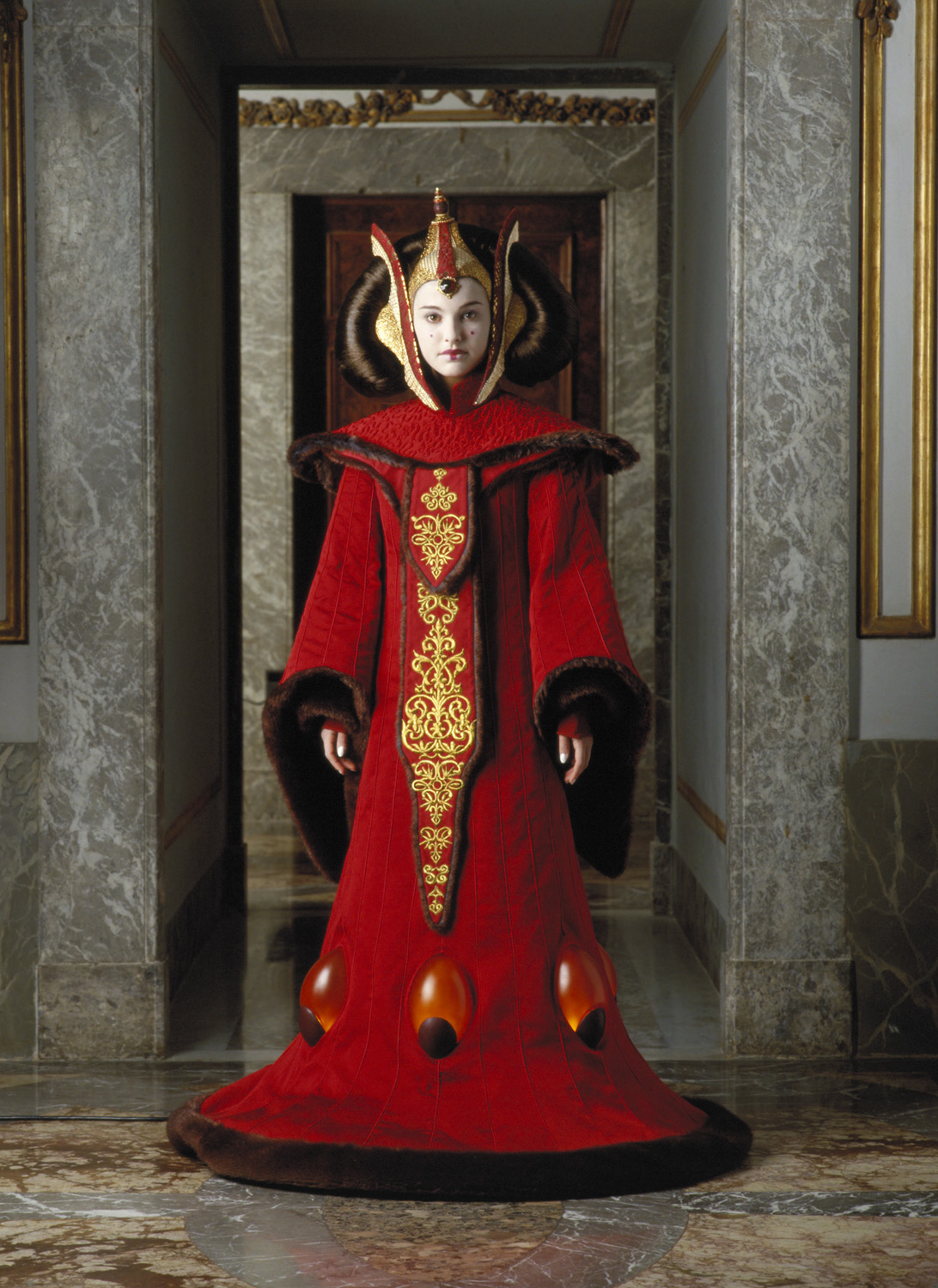 Lilac Visitation Robe
A royal attire used for visiting with other influential leaders of the galaxy. In contrast to her more grand red throne room attire, the lilac visitation robe has a more subdued color. One can assume the color is subdued on purpose to pay respect to whoever she is visiting.
Senate Robe
Besides being a Queen, Natalie Portman also plays Padmé as a Senator. Padmé is the Senator and republic representative of the planet of Naboo to the galactic senate. Her red, orange, and gold senate robe is more embellished than her usual throne room attire. It is filled with intricate ruffles, dragon-like designs, and flower embroideries. Her hairstyle alone catches attention. She wears this in essential meetings, especially when she has to speak in front of the senate.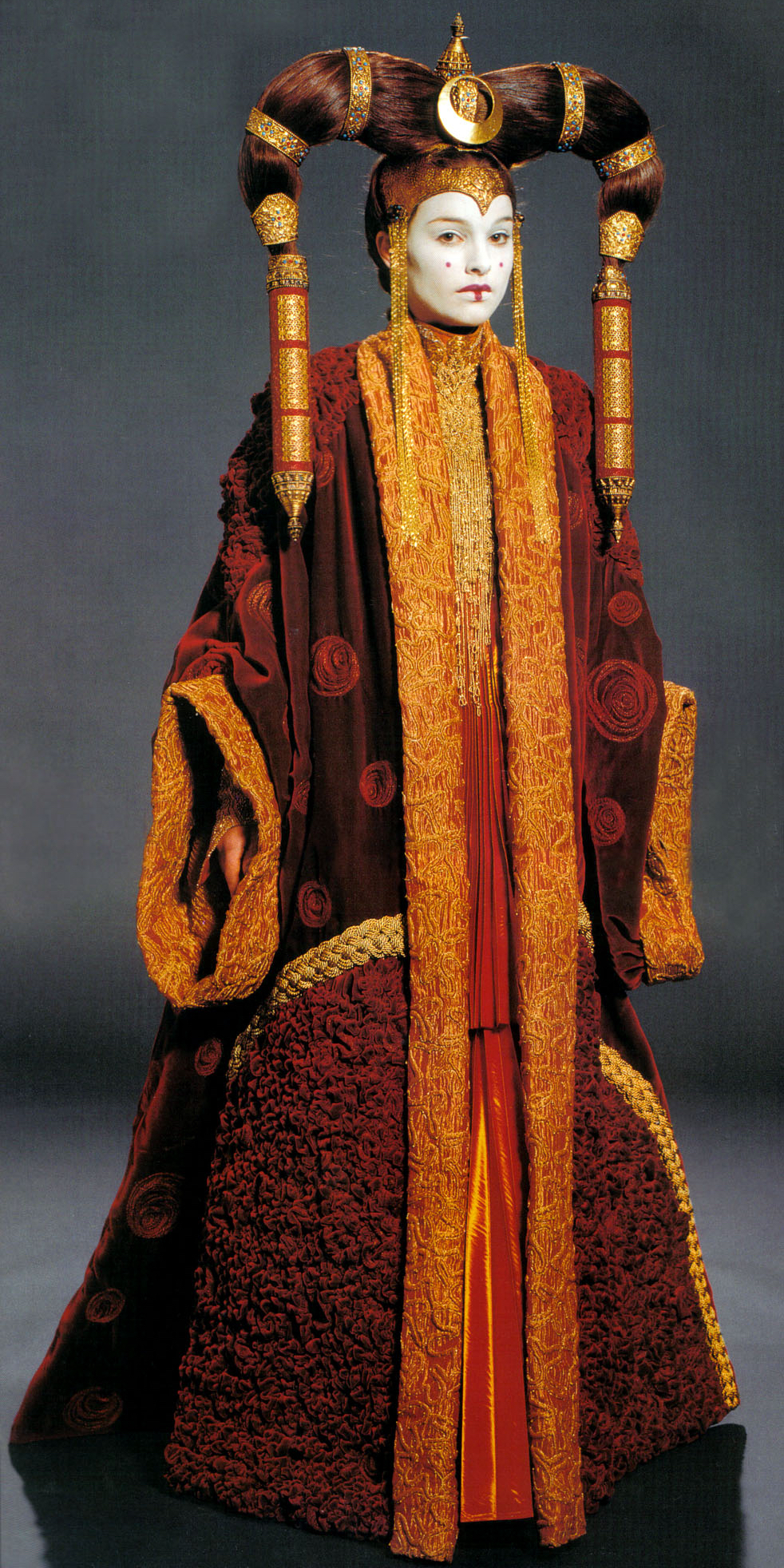 Foreign Residence Robe
Another royal attire for the Queen. The foreign residence robe is used whenever the Queen must stay away from her home planet of Naboo. We know it's a royal attire because she is using her signature royal makeup with the full white face, the red lipstick, and the red dots on her cheeks, reminiscent of a Japanese geisha. This royal attire is darker in color, mostly black and dark blues, to signify her sadness of being away from home.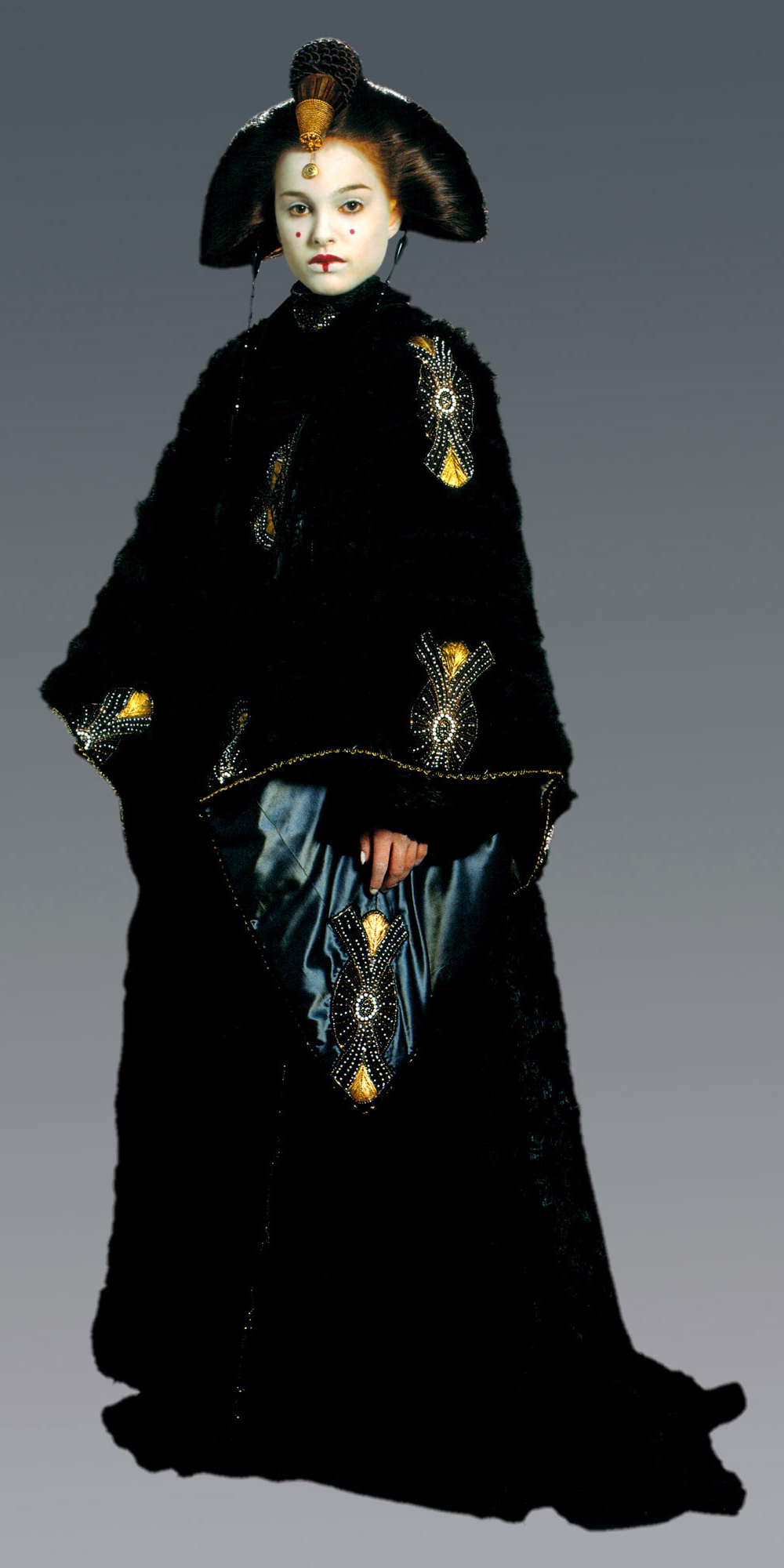 Jubilation Dress
The Jubilation dress is the traditional outfit used by Queens of Naboo in festivities. The cream and pearl-like colors of the dress are effortless and light on the eyes, perfect to wear in times of great happiness.
Refugee Disguise
As a queen, Padmé must wear many different disguises, especially in times of peril. Padmé wore this refugee disguise during the war to retreat to Naboo. She wears a brown robe with bishops sleeves and a dirty gold-colored hood. If these were the kinds of things, refugees wore in the Star Wars world, well damn they look pretty good.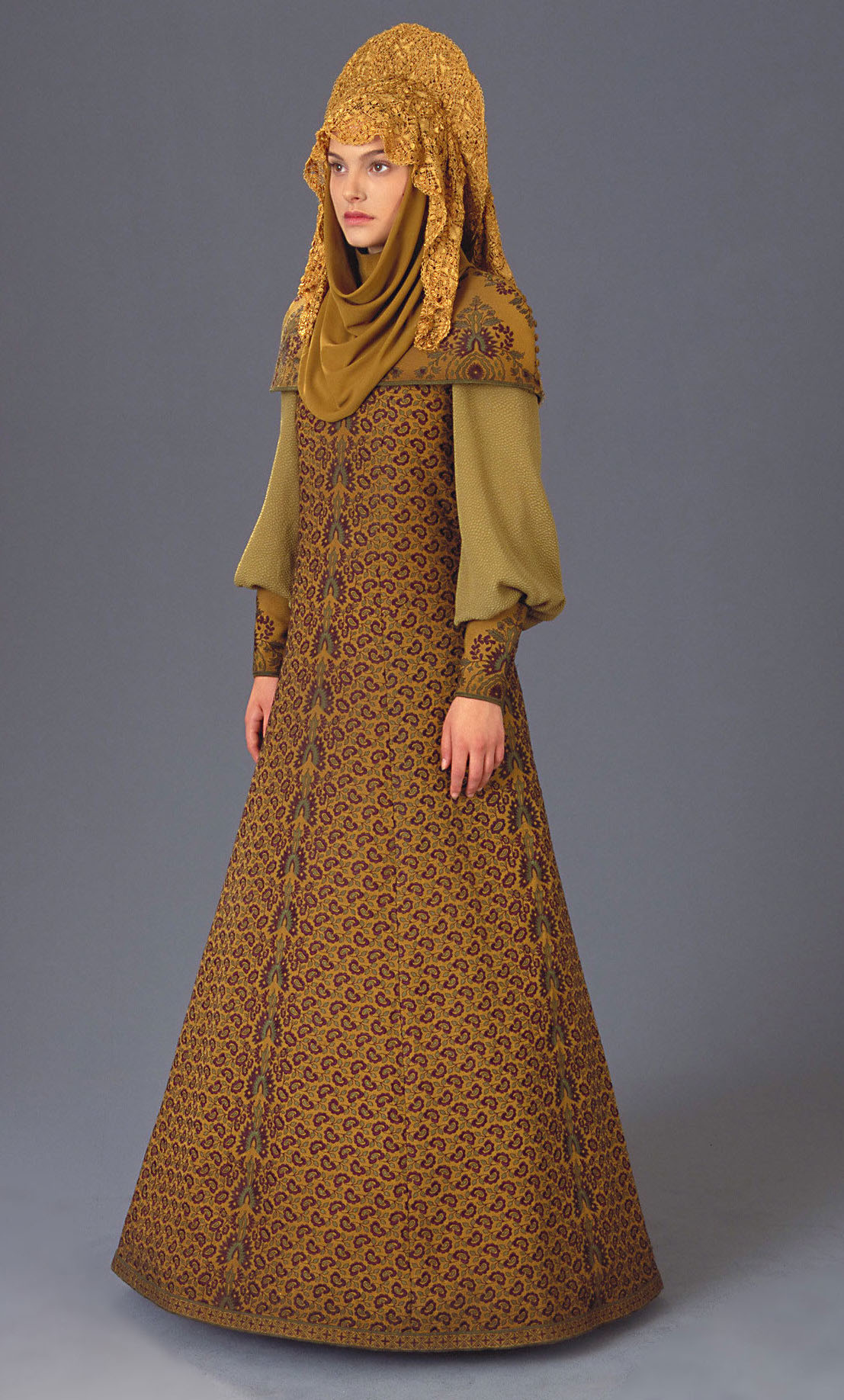 Geonosis Attire
Arguably Padmé's most iconic look. The Geonosis attire is what most people think of when mentioning her name. She wore this very flexible look when she participated in the battle of the planet of Geonosis. Her all-white outfit is effortless for cosplayers and Halloween enthusiasts to recreate. I mean, I can see someone wear this out in the streets, and nobody would bat an eye. Okay, that may not be so true. Fanboys would be screaming if they saw it.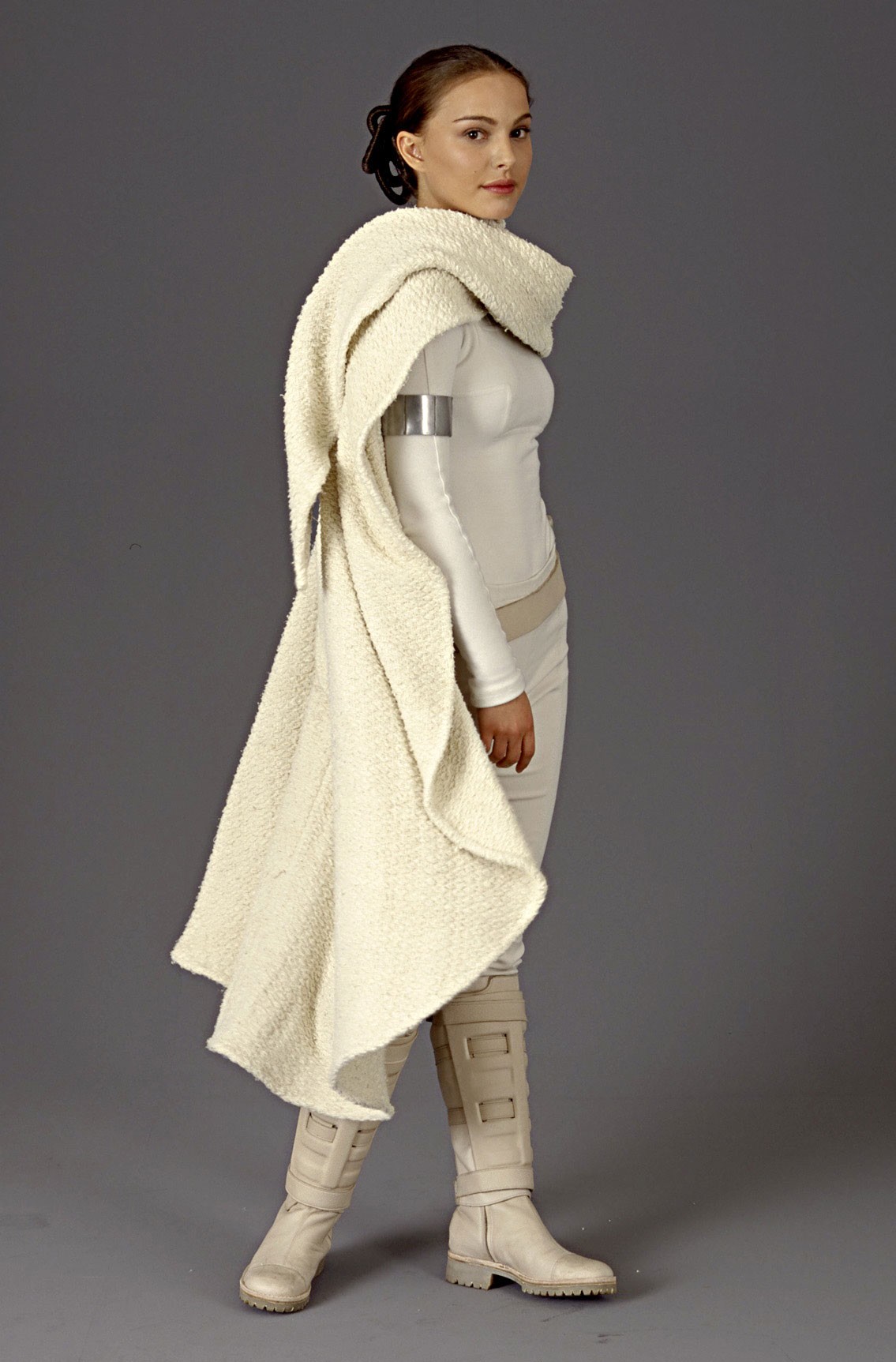 Beaded Indigo Dress
Another senatorial dress, but without the royal makeup. This dress has multiple layers to it. A bodice and skirt, and coat on top. The bodice's chest is studded with beads that look like the night sky while the long dark overcoat reminds us of the dark void in between the endless galaxies.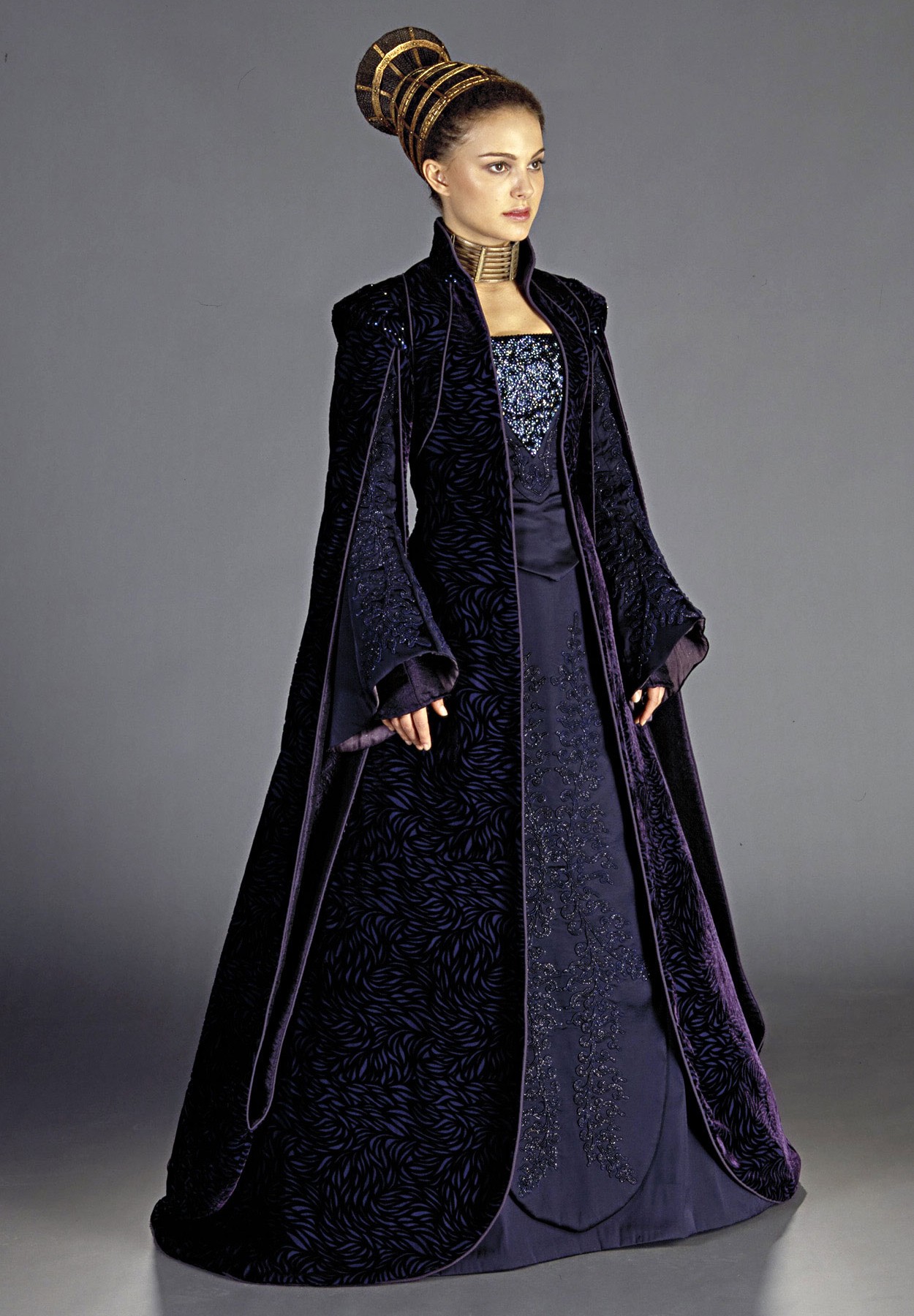 Peacock Dress
The peacock dress is one of her senatorial dresses she used to speak with Chancellor Palatine. The entire look is shaped like an upside-down cone. The colors are reminiscent of the glorious peacock.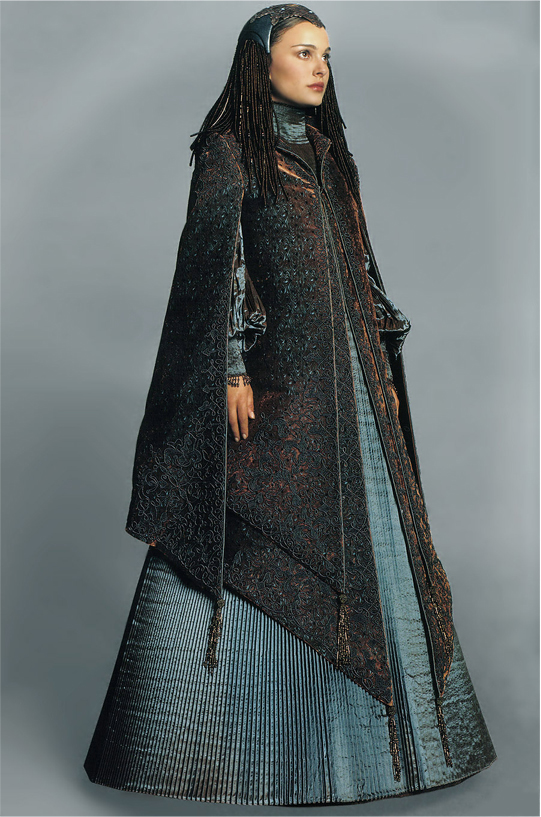 Villa Dress
One of her prettiest and most refreshing dresses in this entire list. The villa dress is reminiscent of ancient clothing Greek women would wear on the daily.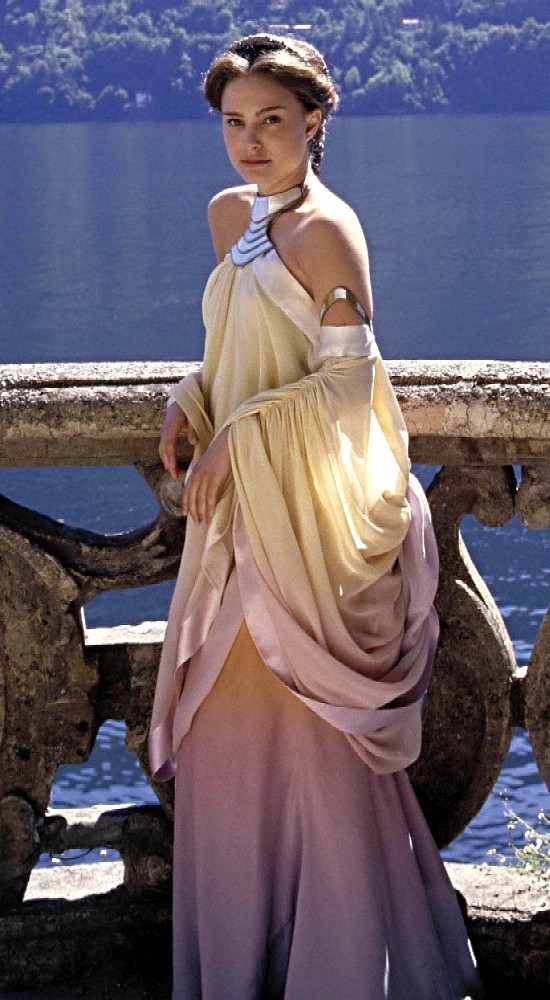 Tattooine Attire
Padmé wore this when she traveled to the dry and windy desert planet of Tattooine, home of her husband, Anakin Skywalker. This is also where her son, Luke Skywalker, would eventually grow up. Being a desert planet, Tattooine is very hot and filled with sand storms. She wore this white jaguar patterned full-body coat to protect from the sun and wind.