Pretty much every man wanted to be in a band or an action star at some point in their lives. Certain things make the two a complete man inspo. It's a combination of swagger, power, and charisma. Other than being straightforward and an absolute chick magnet, the two shares one element when it comes to style — Leather jacket.
There's something with a leather jacket that radiates an extra punch of masculinity. It is a classic and versatile item that has been on trend since the beginning of time and will never go out of fashion.
If you are planning to get one or have it in your closet but struggling to look good on it, then it's your lucky day. This guide on how to wear a leather jacket will help you determine which style fits you.
Leather Bomber Jacket
The one and only, the classic bomber, has come a long way.  From its military origins, moving from the literal runway to fashion avenue.  Style the Leather Bomber Jacket with a crew neck tee shirt and match it up with trousers. This look will surely give you the Rockstar feels.
Leather Biker Jacket
You've possibly imagined yourself wearing one while on a big bike. This OG is nothing but a classic staple for men. The Biker Jacket itself is already a statement, so go for a look with a neutral outfit, avoid other prints to make the details of the jacket more visible and catchy.
Leather Racer Jacket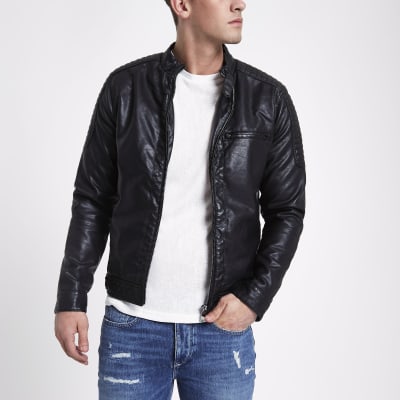 This one differs significantly from the Biker Jacket. The trend emerged After World Warr II, and since then, it's been everywhere. To mix it all up, you can style the old Racer Jacket by wearing skinny jeans and button-downs to give it a more modern look.
Leather Field Jacket
Another Jacket with a military origin. This jacket has multiple pockets and can be longer for others. This piece is very versatile because you can wear it with a turtleneck to give it a more classic and elegant look. You can wear this with a basic white tee for a more casual look.
Leather Varsity Jacket
"varsity jacket" is more closely to be described as a sporty, jock jacket, and can be made of anything from jersey cotton even in suede. But nothing screams "campus heartthrob" other than a Leather Varsity Jacket. You can mix and match many different things with this kind of jacket, a white shirt? A polo shirt? You name it!
READ MORE: Fresh Ways To Wear A White Shirt